Texas: 2A Grassroots Advocacy and Marksmanship Workshop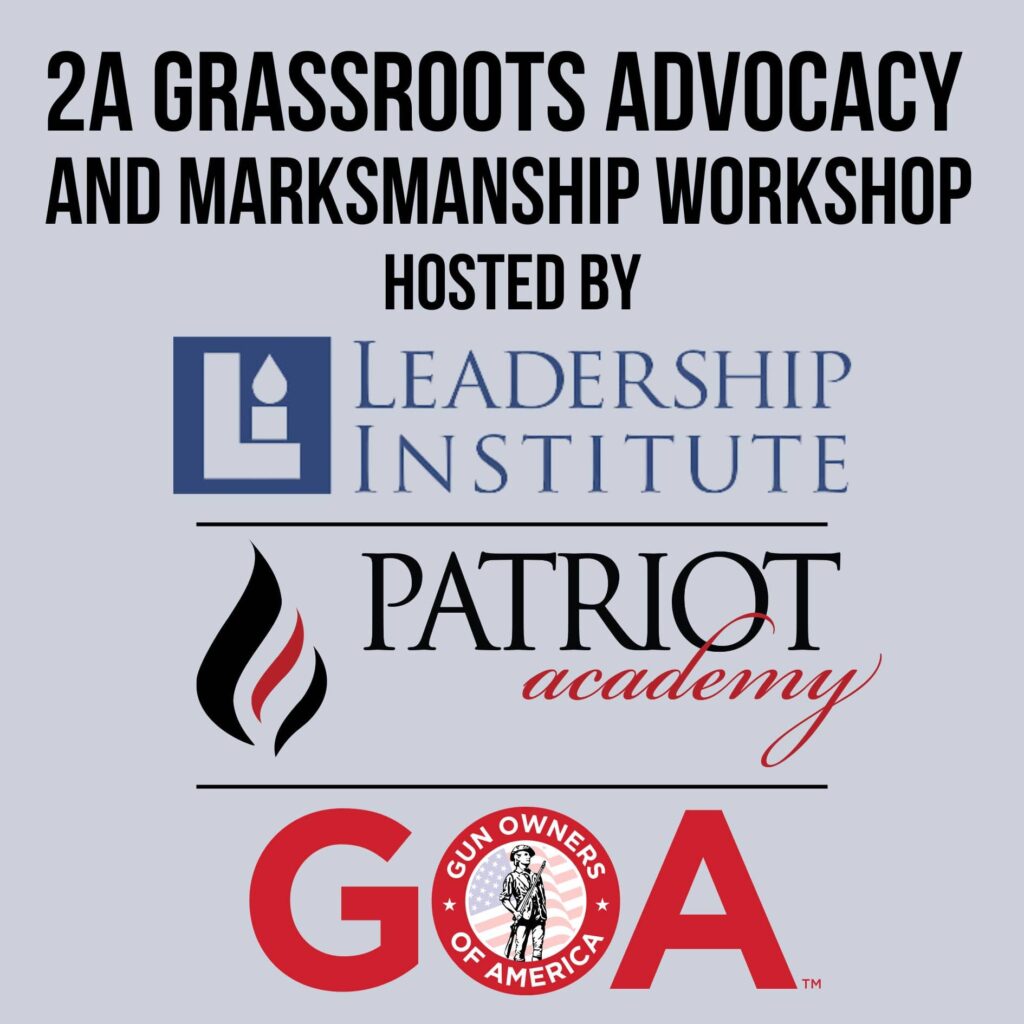 GOA Texas is proud to partner with Leadership Institute and Patriot Academy to bring you the 2A Grassroots Advocacy and Marksmanship Workshop
In just 4 hours, you will become better prepared to support Gun Owners of America as a grassroots activist in Texas.
The 2A Grassroots Advocacy and Marksmanship Workshop is designed to demystify the fight to protect the Second Amendment and will cover:
The Second Amendment: How we got here and why? The history and future of the 2A.
Trust-Based Influencer: Winning Hearts and Minds
Dos and Don'ts of Testifying
Silent Majority: Activating our Army & Changing the Game
Fighting Propaganda: Words Matter – What to Say & How to Say It
Holding Elected Officials Accountable
After lunch, The Patriot Academy firearms instructors will make the range time fun and informative for all skill levels.
For more information regarding firearm rental and ammo, please contact The Patriot Academy directly.
Click here for Constitutional Defense course information
Range instruction will cover standard safety practices, basic self-defense, how to obtain a Texas License to Carry Handgun (LTC) and an overview of the most crucial regulations for firearm owners – starting with the most important information of all – how to defend your rights effectively and keep them intact.
Phone number and email are required for registration so we can communicate important details in advance of the event.
Reserve your spot today!
When:
Saturday, November 18th, 2023
8:00 AM- 5:30PM
Where:
Patriot Academy Campus and Range
1103 US-87, Comfort, TX 78624
Registration:
2A Leadership Institute Workshop – $25
Workshop and Range Time – $50
Itinerary:
8-9 am: Check-in, light breakfast and Blackout Coffee
9 am-12 pm: Introduction and Morning Training
12:00: Lunch
1 pm-5 pm: Afternoon Training
Contacts:
Leigh Gibson – GOA: leigh.gibson@gunowners.org
Phil Watson – Leadership Institute: PWatson@LeadershipInstitute.org